THE EYE OF THE HURRICANE
xx
She is an icon, and she is an iconoclast, a Caribbean bird of paradise and the disco era's Queen of the Night. Now she has written a formidable autobiography, titled I'll Never Write My Memoirs. Love is her drug and her name is Grace Jones.
xx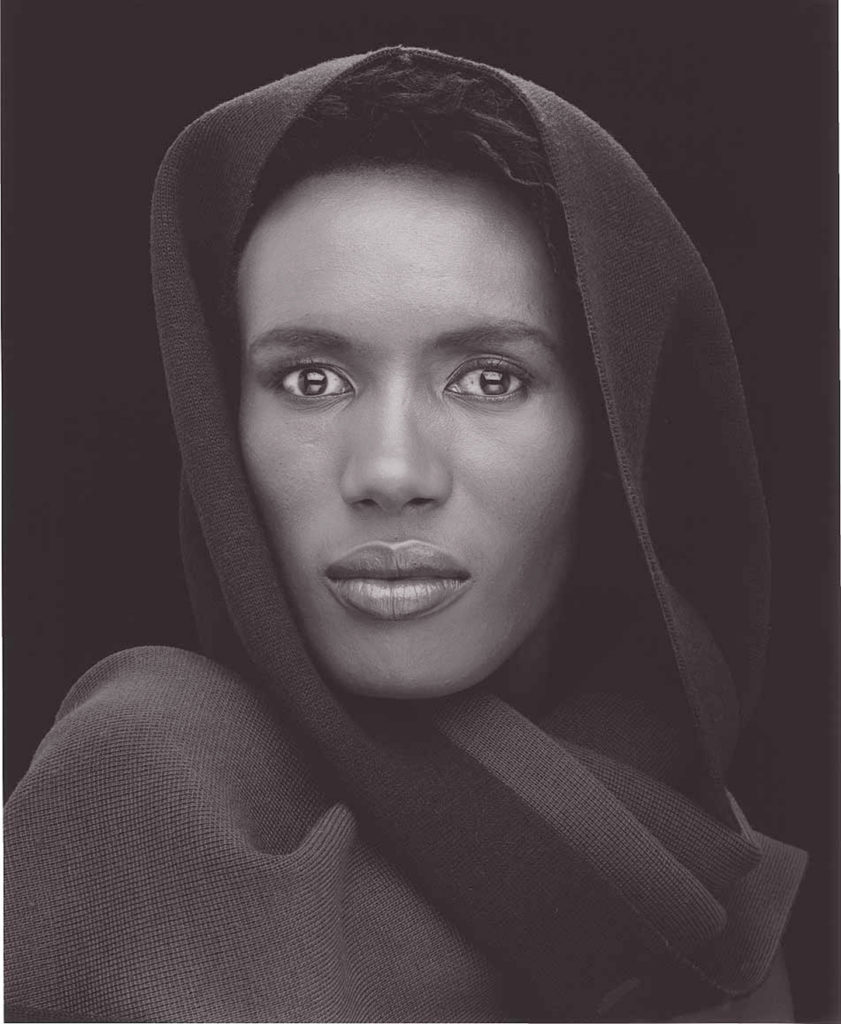 xx
Most of us spend our whole lives trying not to offend anyone, to conform, and to not be noticed. Born in Jamaica, in 1948, Beverly Grace Jones could have spent her life ducked down as a nun or a housewife, but she followed her calling into the limelight. Having spent an almost Dickensian childhood growing up in a deeply conservative dynasty of black Christian preachers, she realized she was born for self-expression, for the stage, the catwalk, and the show biz. So Grace escaped, rebelled – and, the world became her oyster.
xx
Clip: Slave to the Rhythm – Official Video Reworked
xx
Over the past 40 years, Grace Jones, the tall, tomboyish girl from Spanish Town has become a constant part of our culture's stylistic and musical mosaic. She continues to symbolize the cosmically androgynous African warrior, striding the glowing wasteland of a garishly tropical future, or an untameable Josephine Baker for the space age. Her shape is that of two triangles standing on their tips, on top of each other. Primal, simple, arresting. Her looks can kill. But the truth is: in her heart of hearts Grace Jones is such a sweet soul, she'd rather die of a laughing fit before seriously contemplating your execution. It is this Grace Jones that gladly comes to the surface a lot in her memoirs, paradoxically titled I'll Never Write My Memoirs.
Still, to this day, journalists and colleagues are scared out of their wits, being confronted with the grim glances she can throw: Roger Moore, who was the Bond opposite Jones' opulent villainess May Day in 1985's A View To A Kill is reported to have asked her, between takes, to stop staring at him that way, because it felt too unsettling.
xx
In her autobiography, we learn that she not only picked her own costumes for the part of May Day (unheard of from any other female character in a 007 franchise) but also that she picked up her diabolical eyeball rolling from her Grandmother's second husband. He went by the name of Mas P and by all accounts seems to have been a sadist and fear monger in the cloak of a preacher, under whose iron hand the Jones children suffered until they moved to the US in their teens, to join their parents who had found employment in Philadelphia.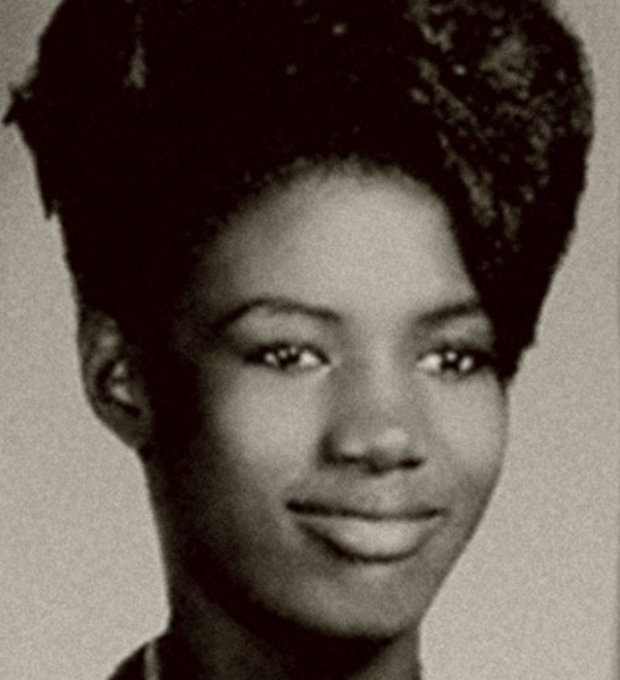 From there we follow her on a wild escape into the world of theatre, the arts, the 1960s' blooming counterculture, and New York's state of grace as the world's epicenter of fashion, style, and disco in the late 70s. She thrives on dropping acid, motorcycle excursions, and tabletop dancing, and, as a model, witnesses the Studio 54 scene, joining forces with Andy Warhol and Helmut Newton.
xx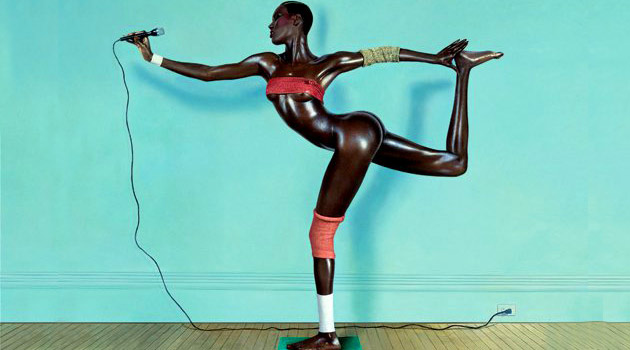 xx
A lot of space in Grace Jones' story and a lot of headspace in her life is dedicated to the hard struggle to define herself and her aesthetic idiom, the constant invention, and reinvention within a publicly recognizable frame of style. Her breakthrough moment comes (along with her first orgasm), by befriending a hairstylist who creates the predecessor of her famous flat top coiffure, emphasizing her sinewy, masculine-muscular silhouette, her high cheekbones, and the slightly upward-sloping nose. Famous New York model agency founder Wilhelmina suggests that Grace could become something like an ebony Gene Thierney, and Grace runs with the ball, frivolously exploiting her edgy physique and complementing it with outrageous techno-tribal outfits or sharp, shoulder-padded suits.
xx
Clip: Warm Leatherette / Walking In the Rain LIVE
xx
In Paris, where she relocates in the early 80s, she will find another mentor of the visual arts, Jean-Paul Goude, who went on to design not just her record covers but her entire persona publica, and who fathered Grace's only child, Paolo, making her a proud and gentle mother, and, by now, a grandmother – Grandma Grace, a surprising, but pleasant imagination.
xx
The 1980s, seemingly Grace's defining decade, see her finding her groove in singing – Chris Blackwell of Island Records hooks her up with hyper-organic riddim soldiers Sly & Robbie and the Compass Point All Stars, resulting in her classic albums Warm Leatherette (1980), Nightclubbing (1981) and Living My Life (1982) –, and playing an untameable slave, fighting alongside Arnold Schwarzenegger in Conan the Destroyer (1984). She is also seen going out with some of the He-Men of the me-decade, such as Dolph Lundgren or Sylvester Stallone. The gay community and the outré of the world of fashion regard her as a muse and a subcultural den mother.
Although AIDS begins to take the lives of many of her friends in the party communities of New York, Paris, and London, Grace Jones continues to be inhibited by the party spirit and to be outrageous, in dress as well as in behavior. Her famously slapping the slightly patronizing talk show host Russell Harty live on TV, for not granting her enough attention, is still a worthwhile study of character to be watched on youtube. Grace Jones is being admired globally for her predatory dance floor moves; still, her stage antics are sometimes even more effectively show-stopping than her costume, as she proved by falling from the stage at various gigs. All these haps and mishaps are taken into account in a level-headed and, one can't really deny it, almost spiritually strategic way throughout I'll Never Write My Memoirs: You take some, you lose some.
xx
Clip: Corporate Cannibal / from Hurricane, 2008
xx
On the reader's winning side of these remarkably readable memoirs are the lively and wise voice at its core and the yarn of stardust that is spun along her stellar journey: We hear about her admiration for the only other wild black diva out there in the early 1970s, Tina Turner. We read about creating a New Wave amalgamation of rock, funk, reggae, and outlandish lyrical meditations with Sly & Robbie, sharing and scaring lovers with Jerry Hall, amusing Queen Elizabeth II with her hula hoop skills, conquering and learning to detest Hollywood, being asked by Fela Kuti to join his harem, fun rhyming with Mick Jagger, getting out-stoned by Keith Richards, the critical perceptiveness of Village Voice music reviewer Robert Christgau, the Rock'N'Roll optimism of Kate Moss, discussing family troubles with Michael Jackson, singing Opera with Luciano Pavarotti and introducing her father to Nelson Mandela.
xx
xx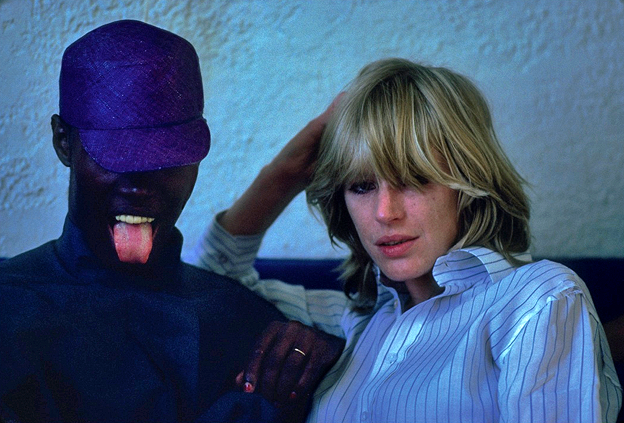 xx
xx
On the diaspora of her heritage as a true diva, however, Grace Jones has not much uplifting to say: Her verdict on her successors such as Miley Cyrus, Lady Gaga, Nicki Minaj or Rihanna is as clear as it is sobering: According to her, these young ladies just haven't found themselves yet, but are trying to channel her artful flamboyance with the help of an army of stylists. Fair enough, since it really is hard to imagine anyone who could claim Grace Jones' throne in the pandemonium of pop performers.
xx
Clip: Grace Jones interview on singers copying her style
xx
Surprising facts in I'll Never Write My Memoirs, even for die-hard fans: Grace is a distant cousin of former US secretary of state, Colin Powell; she turned down the role of the Snake Lady in Blade Runner; and, more delightfully, she is momentarily working on a video project with Chris Cunningham.
xx
A more obvious special connection comes to light in the book between Grace and her musical godfather, Island Records founder Chris Blackwell. In an interview with the Jamaica Observer that takes place on (James Bond author) Ian Fleming's famed Goldeneye estate, owned by the Blackwells since the 70s, a proud and slightly inebriated Grace points out in the direction of Blackwell the importance of having a partner in artistic spirit: "It's nice to have somebody who doesn't think like everybody else, somebody who understands how you think. I don't want to be remembered, I want to be understood!"
To enhance the understanding of her colorful life and the movements of her unpredictable mind, Grace Jones has told her tempestuous story to ex-NME journalist Paul Morley. Named I'll Never Write My Memoirs, after a lyric in her song Art Groupie, the book was published in October 2015 to wide critical acclaim, and it really delivers on many levels: overcoming her terrifying upbringing in Jamaica, dishy tales from the glitzy world of glamour, a lucid and down-to-earth outlook on life, music, fame and how she dealt with it all–in her own unique, erratic and gloriously irreverent way. Some of the most sincere and remarkable passages in her book are those describing Jamaica's overflowing nature, in which Grace still finds a constant source of soothing and solace.
And most of all, we read greatly unfiltered, elegantly edited Grace Jones on the pages, her distinctive, instinctive choppy rhythm rocking each paragraph like the neon turquoise swell of the Caribbean. Her life story is a wild ride taken with a hot heart but observed and recounted by a very cool mind. In the foreword to her memoirs, she talks about the fear of destroying the myth by giving away too many details from behind the scenes. That she pulls off just this and still keeps her mystique intact, makes her book even more powerful and Grace even more amazing.
xx
xx
xx
I'LL NEVER WRITE MY MEMOIRS
By Grace Jones as told to Paul Morley
Illustrated. 386 pp. Gallery Books. €22.95.
xx
xx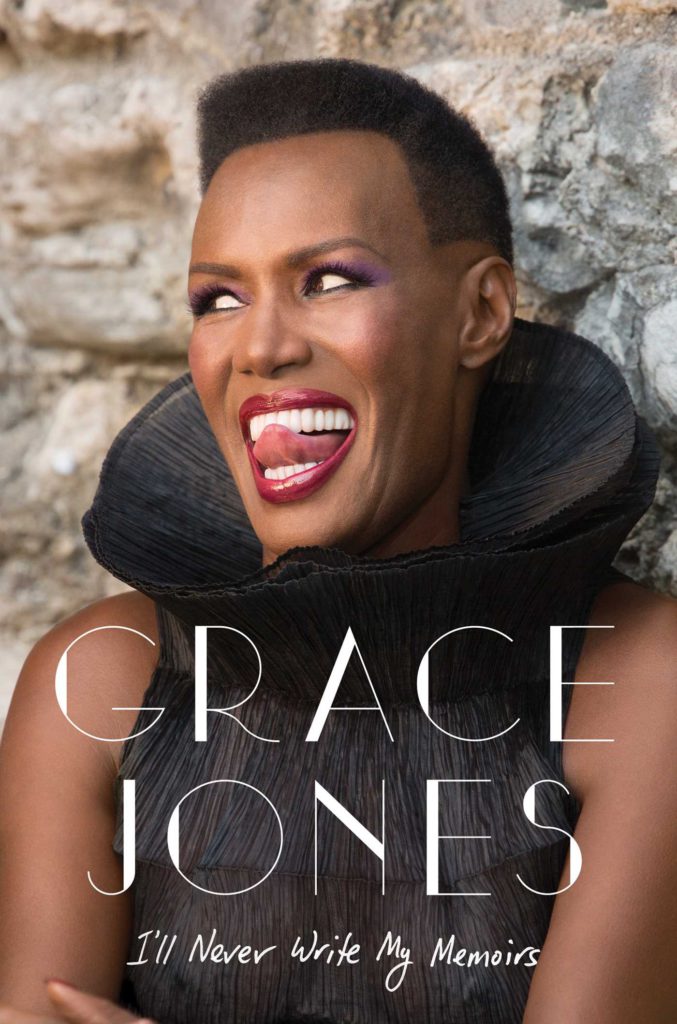 xx
✺ ✺ ✺
xx
xx
Photos: Robert Mapplethorpe, Jean-Paul Goude, Island Records