Eve Babitz (1943 – 2021) war einfach die Coolste. Ein Partygirl, das mit Jim Morrison, Warren Beatty und Harrison Ford Affären hatte, keinen Drink und keine bewusstseinserweiternde Substanz ausließ. Dennoch saß sie auch nach den ausgelassensten Nächten am Schreibtisch, wo sie ihre Eindrücke von Hollywoods High Society stilvoll und klug zu Papier brachte, diese überarbeitete und nochmal überarbeitete. Das Ergebnis: leichtfüßige Prosa, unangestrengt wie ein sexy Schulterzucken; Sätze wie sie nur Meistern und Meisterinnen der Schreibkunst gelingen. Ihre Pointen und Punchlines zünden rasch hintereinander, das Timing ist das eines Fred Astaire. Harte Arbeit also.
Zu den bekanntesten Büchern dieser bemerkenswerten Schriftstellerin, von denen bislang kein einziges auf Deutsch übersetzt wurde (es gibt nicht einmal einen deutschsprachigen Wikipedia-Eintrag zu Eve Babitz) zählen Eve's Hollywood, Sex and Rage, L.A. Woman und I Used To Be Charming, welches nach ihrem schrecklichen Missgeschick 1997 entstand, bei dem sie ihr Gauze-Kleid in Brand setzte und an den Verbrennungen beinahe gestorben wäre.
Zahlreiche ihrer Artikel und Essays erschienen in Rolling Stone, The Village Voice, Vogue, Cosmopolitan und Esquire. Dem äußerst hochwertig selektierenden Buchverlag der New York Review of Books verdanken wir eine 2016 neu aufgelegte Ausgabe ihrer schmalen Story-Sammlung von 1977, Slow Days, Fast Company – dem, wie ich finde, besten ihrer Bücher. Das Adjektiv "dicht" wäre hier fehl am Platz, angesichts der klaren, geistesgegenwärtigen Erzählweise.
Ihre Beschreibungen von Busenfreundinnen, Liebhabern, Landschaften und Lichtstimmungen sind eindringlich und kurzweilig. Die Hauptrolle ihrer Bücher war zumeist jene Stadt, als deren Poetin Babitz heute gilt: Los Angeles. Vielseitig, weithin ausgebreitet, zeitweilig vom Smogdeckel abgedichtet, dann wieder sonnenklar und schmerzhaft hell – zu sonnig und hell für ein Partygirl mit Köpfchen.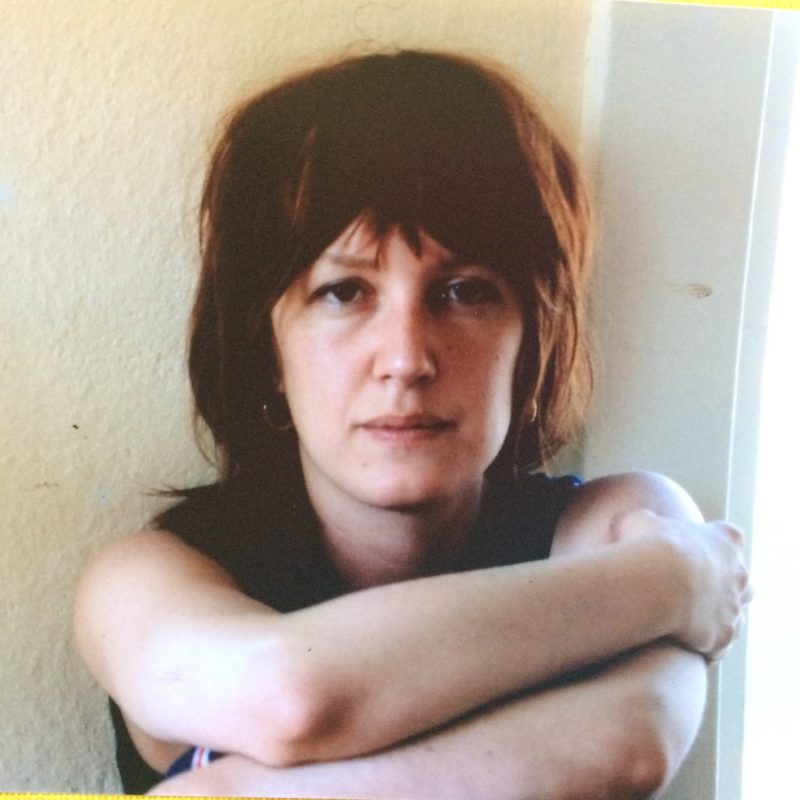 Da wir, liebe Leserin, die des Englischen mächtig und von der weiten Welt fasziniert ist, nun unter uns sind – denn alle anderen sind mittlerweile seit der dritten Zeile aus der Lektüre ausgestiegen oder überlegen gar, ob sie nicht die Sittenwacht ob dieses verruchten Literaturblogs einschalten sollten – lass uns weiterfliegen in die gleißende Nacht über der sündhaften Stadt der Engel. 
Über den Wind, der von den Santa-Ana-Bergen hinter L.A. herabweht und die Sinne der Angelinos verwirrt, lesen wir:
It was one of those nights when the Santa Anas were blowing so hard that searchlights were the only thing in the sky that were straight.
Regen, selten in L.A. und häufig in San Francisco, welches nicht nur für Babitz ein klimatischer und kultureller Gegenpol zu Südkalifornien ist, übt einen besonderen, europäischen Zauber auf sie aus:
The rain is freedom; it has always been like that in L.A. It's freedom from smog and unbroken hateful sameness, it's freedom to look out the window and think of London and little violets and Paris and cobblestones. It's freedom to be cozy. Cozy! You can be cozy and not even have to go to San Francisco.
Über das, was Frauen wollen, schreibt Eve Babitz:
Women want to be loved like roses. They spend hours perfecting their eyebrows and toes and inventing irresistible curls that fall by accident down the backs of their necks from otherwise austere hairdos. They want their lover to remember the way they held a glass. They want to haunt.
Der hohe Stellenwert, den die Autorin dem Sex einräumt, erreicht durch ihren Liebhaber Shawn nie gekannte Höhepunkte:
The funny thing was that I'd always believed that sex masterpieces were the best kind. Better than Bach, the Empire State Building, or Marcel Proust.
Stets präsent ist die Furcht der Autorin, fett zu werden. Dieses Thema artet jedoch nie in quälerische Selbstgeißelung aus, sondern zieht sich als Running Gag durch den Erzählband:
I remember when I first started having lovers, they never failed to remind me that if I didn't watch out, I'd get really fat (implying that I was painful enough to behold as it was). Then the Beatles came with their Jane Ashers and those Mary Quant clothes that you could only wear if you were ten years old and raised on English cabbage. And (with Shawn), for the first time in my life, I began to deep-down know that even though I was not as thin as George Harrison, it was going to be all right.
Über ihre verehrte Freundin Mary Sanford schreibt sie:
(Her hair) defied gravity and seemed to accompany her like a funny angora animal. She was dressed in flowing, translucent lilac cotton with peach slippers; everything floated when she moved. She smelled like lilacs. She had lilac mascara around her eyes and lilac eye shadow that faded into her temples. Her lips were peach. Altogether she looked like a sunrise in paradise.
Später begegnet sie der ungeschminkten Mary am Strand:
And there was Mary, lying on the sand like an ordinary person only better, because without her make-up she almost looked ordinary and it was secret, like having the Mona Lisa in the trunk of your car without the frame.
In Anbetracht von Marys Losgelöstheit von allen irdischen Dingen, verheimlicht ihr Eve sogar einen Reifenplatzer direkt vor deren Auffahrt, um sie nicht mit derart mondänen Problemen zu verstimmen:
If you're going to have a problem around Mary, it seemed to me that stolen jewels were the right level.
Und über die Tatsache, schon früh in der High School begehrenswert gewesen zu sein:
Women I know are always saying that they're glad, after all, that they weren't popular in high school because all the girls who were are now taking Valium and are divorced and stupid. But everyone knows that it would have been much better to have been popular in high school when your blood was clean, and pure lust and kisses lasted forever. Chocolate Cokes in high school are better than caviar on a yacht when you're forty-five. It's common knowledge.
Common knowledge ist auch, dass Babitz im gleichnamigen The-Doors-Song als L.A. Woman verewigt wurde. Sie war auch tatsächlich eine Tochter der Stadt, 1943 in Hollywood geboren und daher früh mit Künstlern und deren Spleens vertraut. Ihr Taufpate war der russische Komponist Igor Stravinsky (Le sacre du printemps). Als Kind picknickte sie mit ihrer Familie oft am L.A. River in Gesellschaft von Greta Garbo, Charlie Chaplin, Arnold Schönberg, Bertrand Russell oder dem Ehepaar Huxley. Mit zwanzig spielte sie nackt mit (dem bekleideten) Marcel Duchamp Schach und ließ sich dabei in einer berühmten Fotografie verewigen, bevor sie der französische Konzeptkünstler und Schachexperte in acht Zügen matt setzte.
In den 1960ern arbeitete sie als Grafikerin für Jerry Wexlers und Ahmet Erteguns Atlantic Records und designte Albumcovers für die Byrds, Linda Ronstadt oder Buffalo Springfield. Ihrem literarischen Helden Joseph Heller (Catch-22) schrieb die junge Eve einen kurzen und bündigen Brief mit folgendem Inhalt: 
Dear Joseph Heller,
I am a stacked eighteen-year-old blonde on Sunset Boulevard.
I am also a writer.
— Eve Babitz
Wer die Welt(en) von Los Angeles erkunden möchte, kann sich in vielen Büchern ein Bild von diesem Moloch am Pazifik machen: bei John Fante, Charles Bukowski, James Ellroy, Joan Didion, Carrie Fisher, Mike Davis und Raymond Chandler. Eve Babitz gehört auf jeden Fall in den Literatur-Kanon von "La La Land". Clifford Lee Sargent über diese Bardin ihrer Heimatstadt in seiner Besprechung in Better Than Food: "Die Heilige Theresa des politisch Inkorrekten in Extase." Glamour, Sex und Sonnenuntergänge, den Wind im Haar und die Unschuld im Herzen: Eve Babitz ist Hemingway mit Humor, eine supersmarte Seelenfreundin und nicht bloß die leichtlebige Liebhaberin, als die sie bekannt wurde.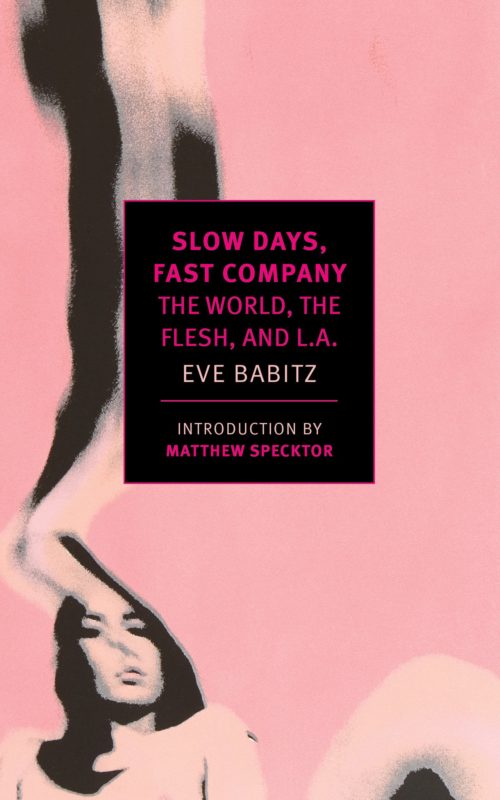 Eve Babitz ::: Slow Days, Fast Company: The World, The Flesh, And L.A.
(NYRB Classics, 2016; mit einem Vorwort von Matthew Specktor)
✺ ✺ ✺