TRANGO AND CHOGOLISA
xx
xx
David Lama (1990 – 2019) was one of the world's cutting edge alpinists. He also was one of the most gifted climbers, discovered already as a child.
After quitting the international competition circuit, having won everything there is to win, this Tyrolean with Nepalese roots caused a sensation in January of 2012: He free climbed Patagonia's fabled granite needle Cerro Torre, via the infamous Compressor Route.
As all stars aligned for David, he and his partner Peter Ortner set out to scale Trango Tower (6251 metres) via the route Eternal Flame and the mystically misty Chogolisa (7665 metres) in Pakistan's Karakoram Range.
In the autumn of 2012, I caught up with David to ask him about this latest expedition beyond the clouds. 

xx
xx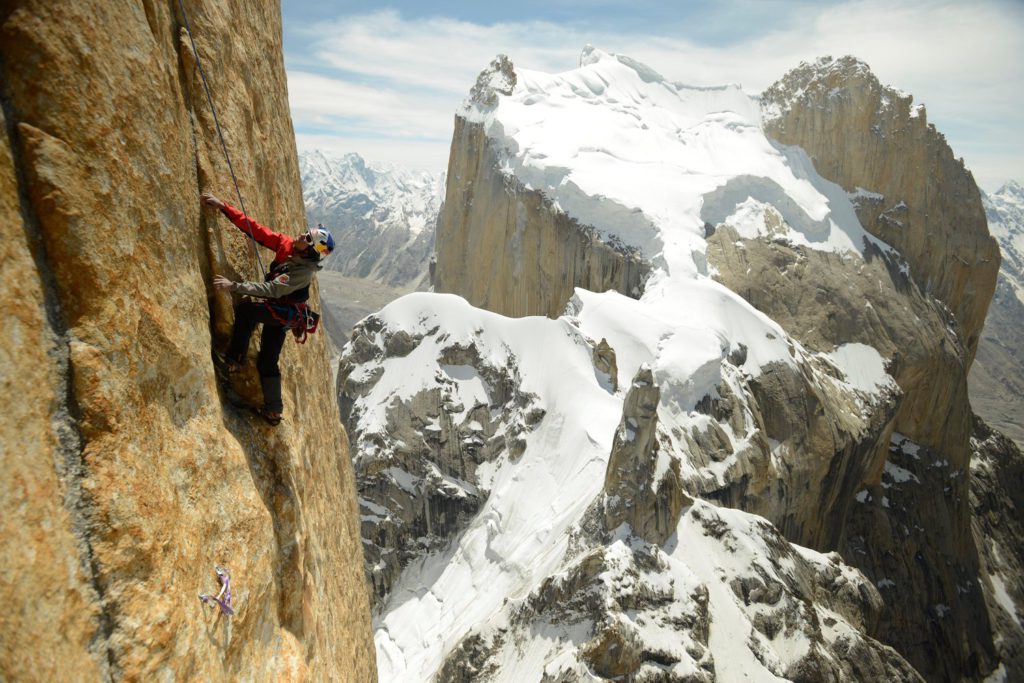 xx
Last year you were in the Indian Himalayas with fellow climbers Stephan Siegrist, Rob Frost and Denis Burdet. How did this trip to Pakistan's Baltoro Glacier compare with your previous expedition?

When we climbed Cerro Kishtwar in India we had to trek for three days through a deserted valley. Because of the border disputes between Pakistan and India, the area was closed for 20 years and has only recently been reopened. This trip to the Baltoro Glacier also took us into uninhabited territory. The last village we entered on the expedition through Pakistan was Askole, that's about 3000 metres high and from there we had a three-hour trek to the glacier.
Your first goal in the Karakoram Mountains was the Trango Group. Were you by yourselves on the steep walls of these famous mountains?

The Trango Group is not very accessible, so there were no trekking groups around when we got there. However, there were a lot of other mountaineering teams from all over the world.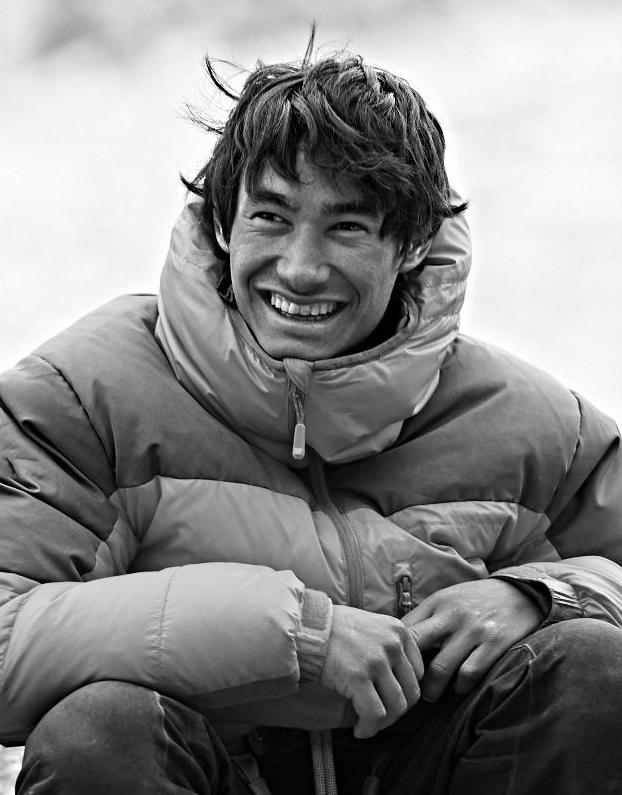 Who were your climbing partners on this expedition?

I travelled with Peter Ortner for the entire durance of the trip – we had scaled Cerro Torre free in Patagonia together earlier this year. I also have to acknowledge the contribution of the three-man film crew who followed us up to the Trango Group: cameraman Corey Rich, Andrew Peacock and Remo Masina.
xx
xx
Clip: David Lama and Peter Ortner on Trango Tower
xx
xx
How did the group deal with the challenges of acclimatising to the extreme altitude?

Generally speaking: really well. On Peter's and my first ascent of the Trango Monk (5850 m), we were a few hundred metres below the summit but had to turn back because we were not yet fully acclimatised. It was especially tough for Peter because this was his first expedition to a really high mountain. A few days after that, we started to scale Great Trango (6286 m) and again we had to turn around near to the summit. This time it was because of avalanches rather than altitude sickness. Lots of snow and ice from the last harsh winter in the wall's cracks and a sudden spell of warm weather could have turned into a substantial source of danger for us.
xx
xx
xx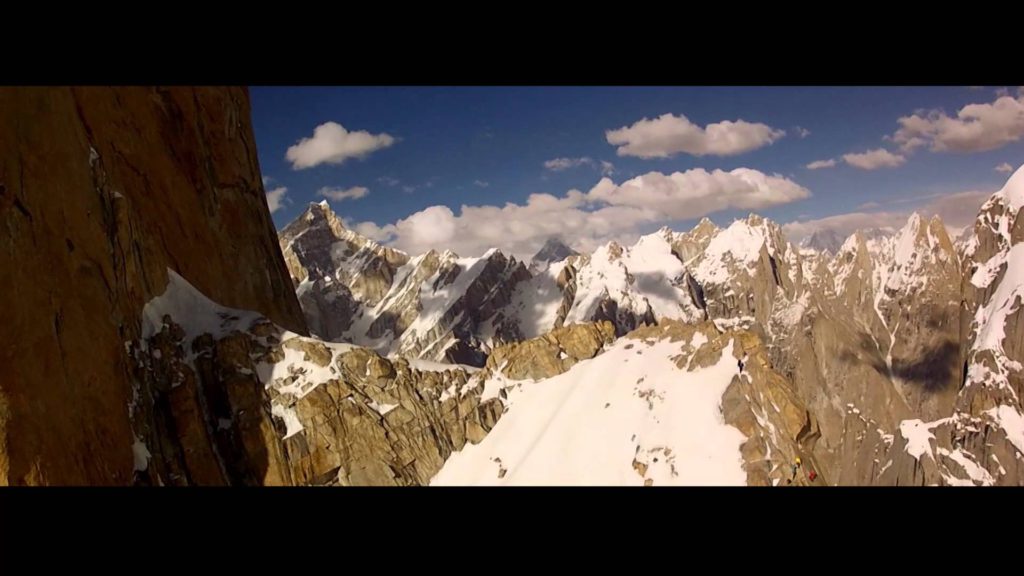 xx
xx
xx
And then your attention turned to the Eternal Flame route to scale Trango Tower, also known as Nameless Tower (6251 m)?

Exactly. The route was established in 1989 by Kurt Albert, Wolfgang Güllich and friends. It leads up pretty straight on this enormous, smooth South Face. The Huber brothers freed it only three years ago. It took us one day to reach the 'sun terrasse' after 400 meters in grade 8. There we set up camp and continued the next day, June 30th. We needed 10 more hours to complete the final 600 metres to the summit. Despite all those other teams in the wall, climbing Eternal Flame is one of the best things I've ever done.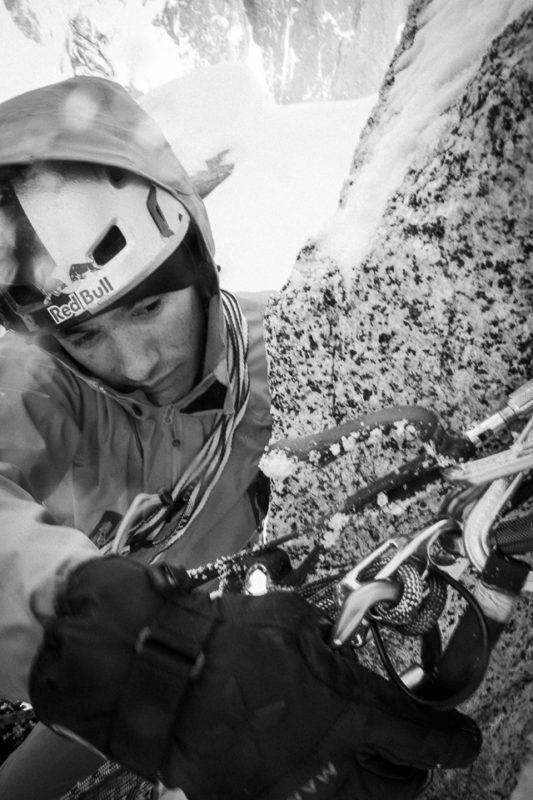 After the Trango Group, your next mission was the trapezoidal snow peak Chogolisa (7665 m). Did you spend time thinking about the legendary Hermann Buhl who lost his life on this mountain in 1957?

Hermann Buhl is a name I know and respect but I'm always trying to do things in my own way rather than follow in anybody else's footsteps. We didn't hike up Chogolisa with the intention to brag that we went beyond the 7000-meter mark, we wanted to experience how our bodies would feel and function at that altitude. Peter and I are not at all about records or about making it to the top of Everest by any given means. Still, we need altitude experience for future climbing projects of ours.
xx
xx
Clip: David and Peter on Chogolisa
xx
xx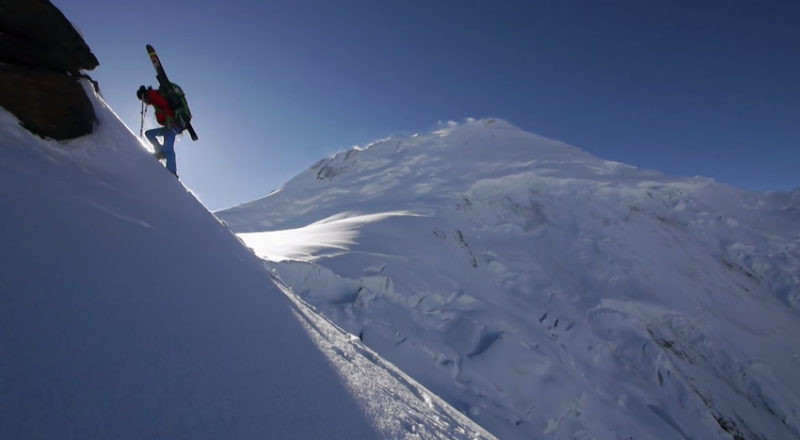 xx
xx
xx
What can you tell us about your expedition to the summit of Chogolisa?

Chogolisa was a damn tough hike. In some sections, we were moving through snow that was waist-deep, so this slowed things down a lot. Then, when you pass 7000 metres every step becomes a massive effort. Some locals gave us a tip that we should hunt an ibex because eating their flesh helps with the altitude sickness. I'm not sure about this theory and we didn't get the chance to test it because we were unable to catch one with our bare hands! Additionally, you have to deal with horrible weather conditions: Out of 18 days in our base camp on the Vigne Glacier it snowed or rained for 14! Chogolisa may not be the toughest climb technically but we were very proud when we finally made it to the top. We were the first ones since 1986.
xx
xx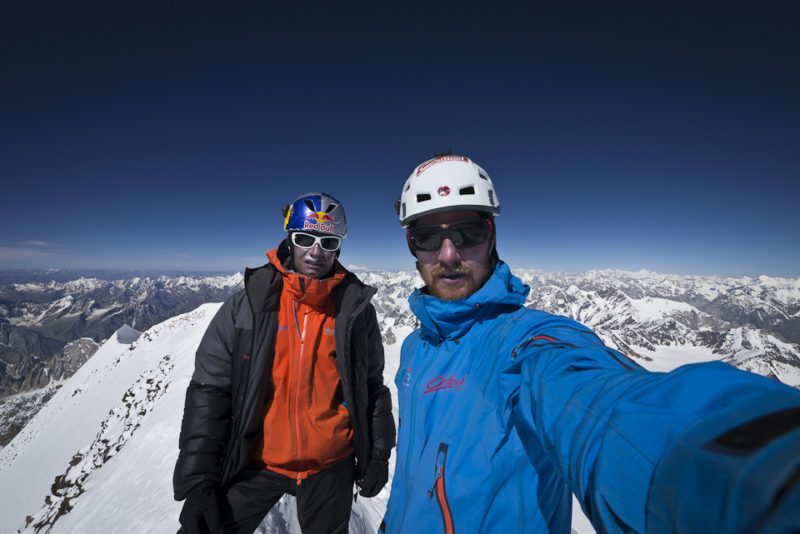 xx
xx
Will you be returning to the Karakoram?

Peter and I already have one other peak targeted that we would like to go back to and scale. The Himalayas are just one huge playground for climbers. I love the freedom of choosing routes up the walls because there are so many options you can take. I don't pay too much attention to the historical significance of a summit. Basically, a mountain is just a pile of rocks and stones and pebbles; it isn't gorgeous or wild or dangerous or 'mystical' by itself, it is so because we humans regard it with such significance. It is all connected with us.
xx
xx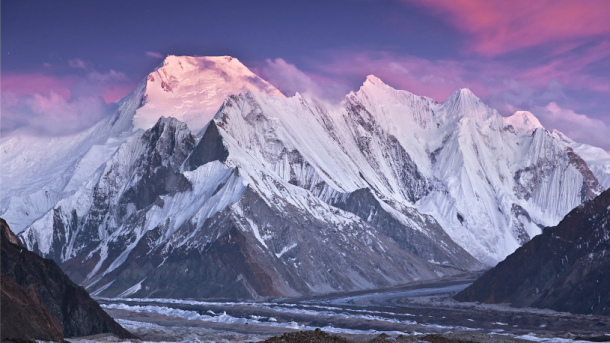 xx
xx
xx
xx
xx
xx
xx
This interview appeared in a different form at redbull.com in 2012.
xx
xx
xx
xx
xx
x
xx
✺
Update, 2019. In the early afternoon of  Tuesday, April 16th, David Lama, Hansjörg Auer and Jess Roskelley perished in a series of avalanches underneath the northeast face of Howse Peak, in the Canadian Rockies.
They had either (1) put up a completely new route on the left side of the face, or (2) they were the first team to repeat the M16, or (3) they first-ascended a previously unclimbed variation of it, which Steve House has called King Line; all three are highly technical routes (WI 7+, A2) up one of the gnarliest rock- and ice-faces on the North American continent.
According to first ascendant Steve House, M16 is a 1,000-metre mixed climb that is reached via a large steep snow slope, skirting the foot of the mountain. House didn't christen the route 'M16' for nothing: It almost constantly bombards climbers with shards of ice, shrapnel of rock and substantial spindrift. House's fellow climber Barry Blanchard broke his leg after a large snow mushroom broke lose 150 metres above him, smashing his body into the side of a gully.
He was repelled off the side of the mountain by his mates the following day and helicoptered out of Banff. During their ascent, Steve House, Scott Backes and Blanchard had been caught in a two-day storm, so it took them four days to get up and down Howse Peak in 1999. Lama, Roskelley and Auer summited the same face in just half a day.
Following their extremely swift ascent, they had topped out in high spirits around noontime, as a selfie on Jess' phone suggests, and then abseiled over the same face. As they were reaching the foot of the wall, Howse Peak sent a frosty farewell down its flanks: The three mountaineers were buried by level-3 snowslides, equivalent to more than a thousand tons of snow and ice.
The avalanche must have come down from high up on the face, triggered by a portion of ice-fall breaking off a wall or by a collapsing cornice on the summit ridge, Reinhold Messner speculated in a radio interview. Like many peaks in the Rockies, Howse is a stack of horizontal, slanted shelves. Once a small avalanche releases, it shakes the snow-laden ledge underneath and so on and so on, in a domino of doom. According to Parks Canada, it took the search team five days to recover the three bodies, due to fog, snowfall and further avalanche danger.
All three were on the global The North Face Athlete Team, and among the world's premier alpinists. They were, as Conrad Anker has called them on Instagram, 'a solid team'. I didn't know legendary John Roskelley's son Jess, but I had heard of his achievements in Alaska, in the Andes and the Himalayas. The more I read up on him, the more impressed I am. I also like the fact that he was a proud husband and welder.
Hansjörg was an exceptional person, who had to endure much hardship in his childhood, being ridiculed by classmates for his big teeth and long bones. He sought solace in the mountains and learned to harness self-sufficiency and solitude, to become one of the most astonishing free soloists of our days.
His free solo ascent of 'Weg durch den Fisch' (IX-) through Marmolada's South Face, in 2007, is one of the all-time highlights of climbing history. Hansjörg realised daunting projects in Patagonia and Pakistan – especially his solo ascent of Lupghar Sar West (7200 m) was a showpiece in pure Alpine style, honoured with a Piolet d'Or, posthumously. He was an honorary member of the Paul Preuss Society and Reinhold Messner's "darling" among the up and coming mountaineers. I heard about plans to repeat the Kurtyka/Schauer route on Gasherbrum IV's shining western wall, or even a new route to the summit.
I had arranged an interview with Hansjörg for a few outdoor magazines six weeks prior. At the end of March, he postponed our meeting to the week after Easter because of 'a climbing trip to Canada', and wrote that he was looking forward to the conversation after he would be back. He never would.
xx
✺  ✺
xx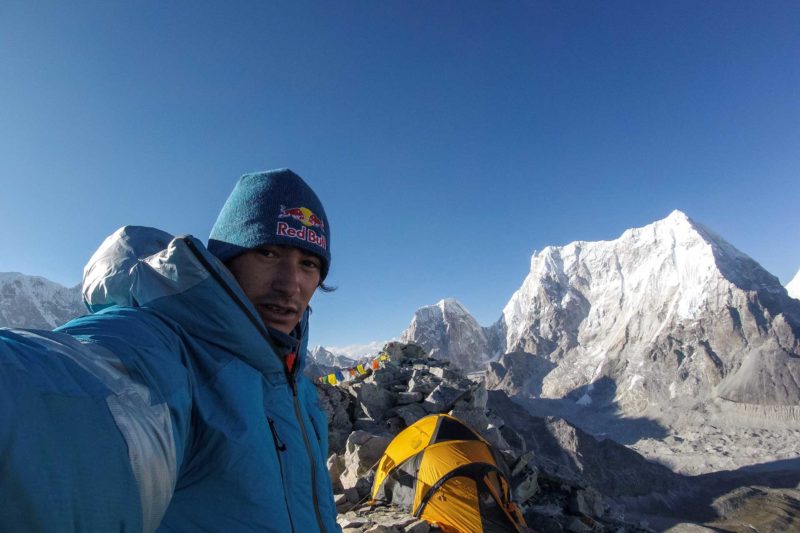 xx
David Tsering Lama was one of the most together people I have encountered. He was just all-round lovely as a human being: shy and humble, yet shining with self-confidence and an immaculate presence. He could also swear in Tyrolean and be a cheeky rascal like nobody's business.
As a climber, he was a wunderkind, discovered at the age of five by Everest legend Peter Habeler. Competing as a young teenager in several classes (lead climbing, bouldering) of the Climbing World Cup series, he became multiple Junior World Champion and, as an adult, won everything there is to win until he got bored with championships. David, in 2008: "You fly into some anonymous Chinese metropolis for a competition in a huge gym, then you fly back home. This way you don't experience anything. But I want to make experiences."
His experiences as an alpinist opened up new horizons in mountaineering. He established a half dozen difficult routes around the world – from the walls and crags of the Alps to the Baatara Gorge in Lebanon, but he will forever be connected to the history of Cerro Torre in Patagonia, where he free-climbed the famous granite needle's SE Ridge along the Compressor Route in January 2012, together with fellow Tyrolean Peter Ortner. Cerro Torre was an immense stepping stone in his life and made his name: the archetype David, taking on a giant Goliath of granite
David's solo first ascent of Lunag Ri (6907 m) in Nepal, his father's home country, was his Himalayan masterpiece and won him a 2019 Piolet d'Or. In the Khumbu, he also summited Cholatse and Ama Dablam. In the Karakoram, he repeated the Albert/Güllich route Eternal Flame on Trango Tower and reached the highest point of Chogolisa's heavenly roof.
Yet, it's not only the finished projects and summits that are his heritage. It's his visions and aspirations that showed up a new perspective in alpinism: Masherbrum's towering NE Face and the mighty SE Pillar of Annapurna III will be associated with him, although he will not return to these mountains to execute his lines on them. German climbing icon Stefan Glowacz once remarked: "Either David will become the next Reinhold Messner, or he will die."
xx
"In the right moment, you can't do anything wrong, and in the wrong moment you can't do anything right."
xx
David Lama
xx
I knew and respected David and worked with him as an editor on his blog for Red Bull's website. Every couple of months between the summer of 2007 and the fall of 2012, I would meet or call him after some competition in France, Japan, Russia, or China, or later on, on expeditions to Kyrgyzstan, Chile, Argentina, India, Pakistan, Alaska, or God knows where else. I must have interviewed him at least 30 times.
The first time I met David in person was at a big party at Hangar-7, in 2007. Back then, he was still known as Fuzzy. It is pronounced 'footsy', meaning a tiny ball of fuzz from a sweater, because David had always been the smallest and youngest among his climbing peers. Nevertheless, he outclimbed friends many years older than him. He was a beady-eyed, spotty teenager with a wave of black hair falling over the left side of his face, who wanted nothing but the next wall to appear in front of him – the harder, the better.
I wasn't very keen on indoor sports climbing and his name meant little to me. But I remember feeling an immediate affinity with David. Like me, he was from the Tyrol, and he was basically a taciturn, shy guy; a child of nature who felt most at ease in the wild, away from the madding crowd. The posh party folk didn't phase him much, but he was extra kind to everyone he met and shook hands with. He hardly spoke a word, but let his rogue grin do the socialising. 
Flash forward twelve years, and David was an established mountaineer and a National Geographic Adventurer of the Year. He was discerning, talkative and media savvy, and had hung out with the preeminent chronicler of Himalayan ascents, Elizabeth Hawley, in Kathmandu. He had gotten blessings from the vertical veterans of Europe and America, Reinhold Messner and Conrad Anker, who regarded him as the crown prince of their high-alpine realm.
David's English was now fluent with a hefty American accent and he had grown into a well-travelled cosmopolitan gentleman who had starred in a feature-length documentary and was ready to enter the highest echelon of the mountaineering world. I felt, that he was going to stick around until old age. His energy would simply prevail.
I also remember the phone call to the Cochamó Valley, Chile, in 2008. David told me that during the past rainy week he had spent time in the refugio (shelter), reading old, weathered climbing magazines. In one of the issues, he said, he had seen a photo of Cerro Torre's headwall, on which he could make out a free climbable line through a system of dihedrals. I searched for an image of the Torre myself and when I saw that spire's headwall, I swallowed. My immediate thoughts were: 1) this kid is out of his mind in a megalomaniac way, and 2) he is totally going to pull it off. I only told him my second thought over the phone. It would become the first of many expeditions for David to make the impossible possible.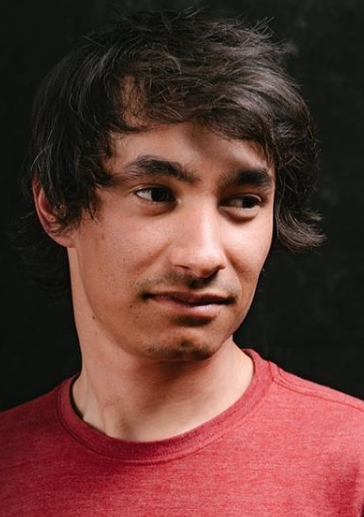 To keep up with David's accounts, I spent hours on Google Earth, AAC, Himalayan Journal, himalaya-info.org, and Wikipedia; on the floor of my study, books on mountains and mountaineering began to pile up like Matterhorns of the Mind. I read up on those fascinating landscapes, peaks and ranges, as well as on the technical terminology and the history of alpinism. Through David's projects, I discovered a fascinating field of knowledge and started tracing a global subculture with its own rules and ethics. The setting of these adventures: the planet's highest and most beautiful mountain ranges in all their glory!
Among my many other obligations at Red Bull Media House, this was one of the dream gigs for me. I looked forward to these calls and getting the lowdown from David, which I would then fashion into a written account in the first person singular and send back to him for authorisation. He always approved and was a pleasure to speak with – polite, precise and generous.
Until one day I talked to him on a crackling phone line after his expedition to the Karakoram in late summer of 2012 (see interview above). I wasn't quite present, as I was going through a personal rough time. As a consequence, I presumed that David and his partner Peter Ortner had managed to climb the entirety of Trango Tower's difficult Eternal Flame route in free climbing style – just like he had done on Cerro Torre a few months earlier – and put it in David's blog: In the usual first person singular.
I thought I had found verification for this on two American climbing websites and assumed that David simply was too understated to emphasize on this achievement at great length. Instead of calling the man himself back one more time to clarify, I relied on these 'insider' threads, which turned out to be 'fake news'. It was that kind of mistake that makes you sit at your desk for two days with your face in your hands.
David was rightfully upset and let me know through his manager Florian Klingler at Red Bull Athletes Special Projects, that he couldn't recognise his own words. I denied all and pleaded not guilty, but of course, I was. The blog never went public in its original form, but I had breached David's trust. The proper climbing analogy to this would be that I had been belaying David and dropped him. Not to the ground, but at least for a few unpleasant meters. You wouldn't trust someone in climbing after such a mishap, would you? Neither did David.
He had just been through a huge internet shitstorm after his first Cerro Torre expedition, and now someone in his circle of publicists was claiming feats that he never even set out for on Trango Tower; there had been just too much ice and rime in its cracks to consider a free climb. Realising my sloppiness, I sincerely apologised. David accepted, saying, we shouldn't make a drama out it; there would be other mountains to speak about in the future. As I soon found out, not with me. David began ghosting me. I got replaced like a bent biner from his bag of tools.
Knowing that it had been my error, I never held a grudge against David, and I have learned my lessons from the incident, but naturally, I continued to follow his adventures in alpinism from the sidelines, out of a passion for far and wild places and because of professional reasons. They were great adventures, filmed, photographed and documented in guerrilla-style, with helmet cameras, small media teams and drones.
xx
"Success, to me, doesn't primarily mean reaching the summit, but rather living up to my own expectations."
David Lama
xx
xx
Just months prior to the fatal Canada trip, David had joined the North Face team. Many people in the small mountain tribe around the globe were expecting exciting expeditions and collaborations between David and Jimmy Chin, Renan Ozturk, Emily Harrington, Alex Honnold, Yuji Hirayama, Hilaree Nelson or Mark Synnott. I guess that racking up with Jess Roskelley and Hansjörg Auer to tick off classic routes up frozen faces in the Rockies, like Andromeda Strain on Mt. Andromeda, Nemesis on the Stanley Headwall and the daunting Howse Peak was meant as an overture for future missions.
Considering the obvious objective hazards of such projects (and nobody can tell me that climbing an iced-over, precipitous East facing aspect under a singeing April sun isn't hazardous), I secretly try to prepare for bad news. One day, the message will come in.
I just wish David would have had at least 20 more years to realise his big Himalayan dreams, to found a family with his sweetheart Hadley Hammer, and to grow into an elder statesman of climbing: a mentor, a teacher – a lama. He could have become a worldwide legend of sports like Muhammad Ali or Bruce Lee. He had it in him. He was like a shooting star that momentarily lights the way, then vanishes.
But in a strange way, his short life seems fulfilled and perfectly rounded. He showed the world who he was and how it's done. The 'How' always being of the highest importance; the climbing ethos 'by fair means' always applied to life itself.
David's grandfather had been a lama (hence the surname) from Tingri, in the Tibetan prefecture of Shigatse, 50 miles to the northeast of Cho Oyu, as the crow flies. This lama resigned from his religious duties and settled down in Nepal to marry a Sherpani and have a family in the Solu Khumbu after the Chinese occupation of his Tibetan home country.
His son Rinzi, David's father, a jolly trekking guide from Phaphlu, and his mother Claudia, a kind and caring children's nurse from Innsbruck, both did a perfect job of raising and encouraging him to follow the call of the mountains. In spite of his youthful demeanour, he had an old soul. Just in case this sounds too hippy-dippy (I'm sure it would to David's ears), let's put it this way: He had wisdom way beyond his years.
David Lama's inner calm, his mischievous smile, and his clarity of assessment are sorely missed. His light shines on.
xx

xx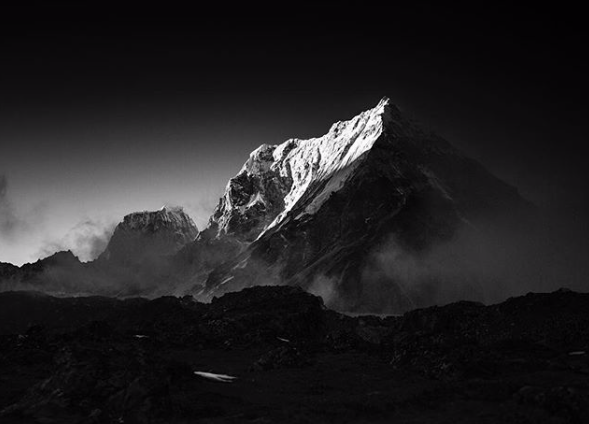 xx
xx
xx
xx



Listen to a conversation with David Lama in a 2018 episode of
xx
✺ ✺ ✺
xx
xx